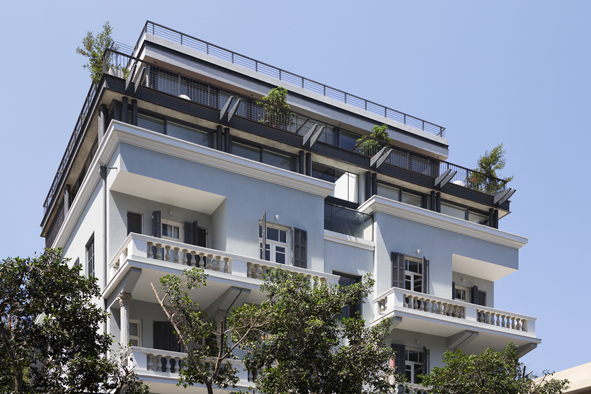 Designed and built in 1925 by architect Yehuda Zuckerman for residential purposes in an eclectic style. The third floor was only completed in 1930, and alterations have been made to the ground floor over the years to adapt it for commercial use. The main façade is symmetric and decorated with cornice-like protrusions, Corinthian columns, and a bottle-shaped railing. The stairwell and apartments are adorned with wall paintings and painted tiles. The building was listed for conservation as part of the 2650B Conservation Plan.
project description:
restoration of the historic building+ Addition of 3 new floors
Planned by architect Carl Rubin as a residential building in the International Style in 1935, it is one of two L-shaped buildings with a common wall, which together form a single pi-shaped (ח) block. The common courtyard is open to the street, and its influence on the public space and urban fabric is substantial although it is private property.
The building is located in the center of the historic city (the White City) as declared by UNESCO. It was listed for conservation as part of Tel Aviv-Jaffa's municipal 2650B Conservation Plan.
Project description:
Addition of one story for a penthouse apartment, a rooftop balcony, expansion of existing apartments, and renovation of the entire building.